Top Democrats Try To Fix Hillary Clinton's Coal Problem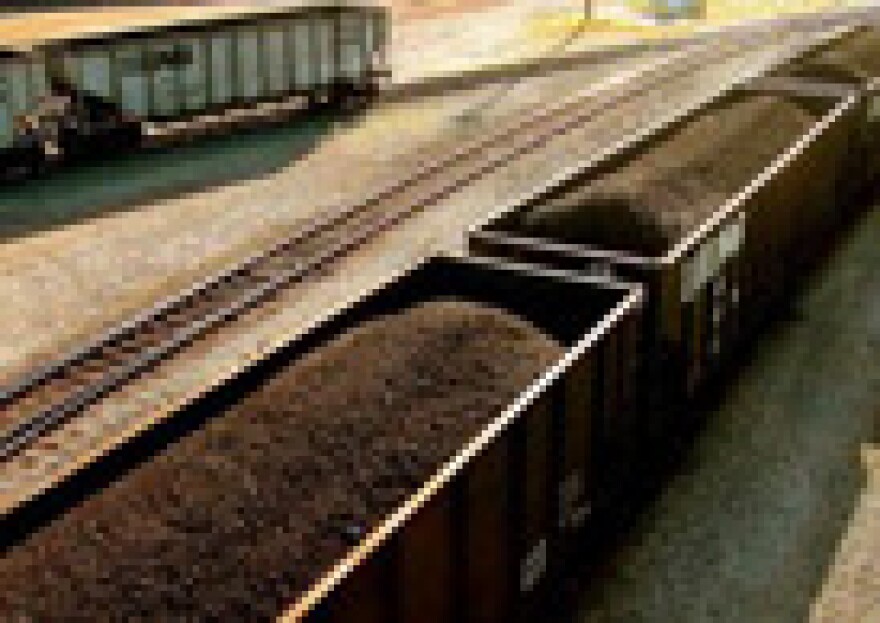 At this week's Democratic National Convention, two presidents ran blocks for Hillary Clinton on an issue that has crippled her favorability in Appalachia: coal.
Both President Barack Obama and former President Bill Clinton brought up coal in their speeches endorsing Hillary's presidential bid.
During his address on Tuesday evening, Bill Clinton recalled how Hillary had sent him to stump for her in West Virginia ahead of the state's primary election to deliver a message directly to coal miners.
"If you really think you can get the economy back you had 50 years ago, have at it, vote for whoever you want to," Bill Clinton said. "But if she wins, she is coming back for you to take you along on the ride to America's future."
Then on Wednesday night, President Obama said coal miners need to be brought into the discussion about climate change.
"If you want to fight climate change, we've got to engage not only young people on college campuses, we've got to reach out to the coal miner who's worried about taking care of his family, the single mom worried about gas prices," Obama said.
Hillary Clinton has been haunted by a statement made at a Columbus, Ohio rally in March in which she said "we're going to put a lot of coal miners and coal companies out of business" while pushing for a $30 billion plan to protect miners' health benefits as companies go bankrupt.
The quote has been pulled from a longer statement in which Clinton talked about the need to help coal workers as the country transitions to alternative energy sources.
"We're going to make it clear that we don't want to forget those people," Clinton said later in the Columbus speech. "Those people labored in those mines for generations, losing their health, often losing their lives to turn on our lights and power our factories. Now we've got to move away from coal and all the other fossil fuels, but I don't want to move away from the people who did the best they could to produce the energy that we relied on."
Nonetheless, the coal issue has turned Clinton toxic in Appalachia.
Clinton lost the West Virginia primary to Bernie Sanders by more than 15 percentage points. She narrowly won the Kentucky primary after campaigning heavily in the state.
Meanwhile down ballot Democrats in the state — especially in mountainous eastern Kentucky — have distanced themselves from Clinton. Sen. Ray Jones II, a Pikeville Democrat and the Senate Minority Leader, wouldn't say if he would vote for Clinton after his Democratic primary opponent accused him of supporting her.
According to the Associated Press, Democratic Senate Candidate Jim Gray said he still supports Clinton, while at the same time he distanced himself from her infamous comment at an eastern Kentucky event.
"Well she was wrong, and it was taken out of context," Gray said. "And I don't agree with it. You don't agree with everybody at any point in time and she doesn't know this region as well as I know this region."
There are just 6,900 coal miners employed in Kentucky, the lowest level recorded since 1898. Meanwhile, during the first quarter of this year, only about 11 million tons of coal were mined, the lowest statewide rate since 1939.
Many blame the coal industry's decline on President Obama's proposed restrictions on carbon emissions from power plants.
Other factors are at play, too, including the record low price of natural gas — also used for power generation — and the fact that dwindling coal seams in eastern Kentucky have become harder to reach and less profitable to mine.
Back at the Democratic convention in Philadelphia, Clay Ford, a delegate from Owensboro, said that politicians need to both fight for people who have or had coal jobs and protect the planet for future generations.
"I think that's where we have to come together and find a compromise and make sure that those people in our economy is protected in Kentucky while still looking out for the long-term future of our state," Ford said.
Republican presidential nominee Donald Trump has vowed to repeal Obama's Clean Power Plan. The Republican Party's platform calls coal "an abundant, clean, affordable, reliable domestic energy resource."